A pretty good place to start': Serving Myanmar's farmers
Date: 2019-05-16
Expo: Myanmar Agro Food Exhibition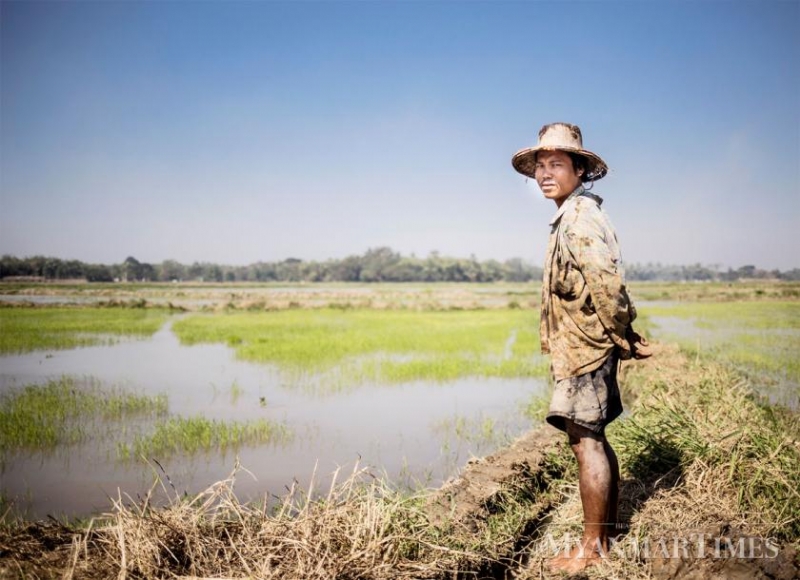 Farmer Saw L Mu stands in a field on his farm in Twante township, Yangon Region, in 2017. Zarni Phyo/The Myanmar Times
Jim Taylor, CEO and co-founder of Proximity Designs, is on a mission to help Myanmar farmers gain access to finance. The funds will help them pay for seeds to plant crops, labour to till the land, and basic infrastructure, such as irrigation equipment and farming technology, to fend off pests, diseases and the effects of weather on crops.
"If you want to help the people of Myanmar, farming is a pretty good place to start. Despite the country's rapid urbanisation in recent years, the population remains overwhelmingly rural, with 70 percent of people relying on the land for their livelihoods," said a recent blog post by Proximity Designs.
This came after the US government's Overseas Private Investment Corporation (OPIC) committed US$8 million to Proximity Finance on April 3 to support expanded micro lending to rural Myanmar borrowers, primarily smallholder farmers. The Skoll Foundation, a long-term supporter of Proximity Finance, committed an additional US$2 million of subordinated debt as part of the co-financing package.
"By expanding their access to affordable credit, OPIC's partnership with Proximity Designs will equip smallholder farmers to improve their yields, expand their enterprises, and help their communities thrive," said OPIC's acting President and CEO David Bohigian.
Proximity Finance, which designs its loans to meet the needs of smallholder farmers, is the microfinance arm of Proximity Designs, a social enterprise that serves the needs of over 100,000 households in 2000 villages, primarily in farming.
OPIC's financing is expected to support an additional 100,000 microloans throughout the life of the investment. This will help Proximity Designs to achieve its aim of reaching 188,000 customers and dispersing 1 million loans by 2023, according to Taylor. Proximity Designs began granting agricultural loans to rural farmers in Myanmar in 2012, and says it has assisted farmers in 10,000 villages across the country.
In Myanmar, agriculture employs 60pc of the labour force and contributes roughly 30pc of total GDP, but limited access to credit in rural communities continues to restrict the sector's growth. Without formal financial services, borrowers in these regions are often forced to accept high interest rates from informal lenders, or pawn their land and other assets for capital.
Taylor launched Proximity Designs with his wife, Debbie Aung Din, in 2004, when Myanmar was among the poorest countries in the world. Besides providing financing, the enterprise makes affordable tools like foot-powered water pumps and drip-irrigation systems that help farmers' increase crop yields and incomes. It now offers farmers training and education on seeds, soil, and crop diseases.
Taylor talked to us about the changes, challenges and potential for agriculture in Myanmar.
What is your opinion of the agricultural sector today?
Things have gotten better. In the past, funding for farmers was largely community-based, but the availability of micro-financing is beginning to spread. More farmers are also using machinery and better seeds. Mechanisation has increased by leaps, and some 80pc of them are using machinery to harvest rice, making manual harvesting more rare.
Improved infrastructure has also helped. Better roads make it easier for farmers to get their crops to market and cell phone networks speed up the spread of information on matters important to farmers, such as weather and planting techniques.
What needs to be the focus to develop agriculture?
It especially needs investment. More infrastructure development is also required. Farmers still face difficulties with basic things such as electricity and water. The country lies between China and India and is strategically located. Trading is also significant. There are many opportunities, but investment is needed to overcome basic issues. The most crucial thing for development of agriculture in Myanmar is more investment in infrastructure.
Why do you think investors have focused less on Myanmar farms?
It is because of insufficient infrastructure in particular. Roads and electricity need to be sufficient to produce finished products from raw materials. Costs increase if this infrastructure is inadequate. This is one of the factors. The government also needs to encourage more investment in the sector. For example, the international investment forum held in Nay Pyi Taw earlier this year did not push the message enough of investing in farming.
What prospects do you see for the sector?
I think the country's agriculture sector is promising. We can see that farmers are putting more effort in their businesses. If we provide services they need, maybe either financial support or farming technology, we hope they can work better than before. Agriculture is important in Myanmar's economy. The majority of the country's population is living in rural villages and their livelihoods are largely dependent on agriculture, so the government should carefully consider development of the sector.
What was Proximity Design's aim in serving agriculture?
We have focused only on the agricultural sector of Myanmar since our founding because Myanmar has millions of farmers, but their skills are much lower than in neighbouring countries. We started with the aim of changing this. We were drawn to work here because we saw the huge potential for how well-designed products and services could have a meaningful impact on the lives of millions of enterprising small-plot farmers.
How have you been supporting them?
The productivity of farmers in Myanmar is really low. They try hard but can't reap rewards in an efficient way. We feel it is better to address their current problems rather than urging them to do something completely new. To do this, we look at the problems they face and try to provide solutions.
For example, we examine issues such as whether farmers have access to good seeds, whether the crops are receiving the right nutrients in the right amounts, and what is causing crop losses. Being able to answer such questions would definitely help to raise the incomes of rural farmers.
Providing small loans to farmers who have little or no access to funding helps them to acquire better seeds, equipment and fertiliser to improve their crops.
To do all of this effectively, we have developed intimate relationships with farmers all across the country, so we can learn firsthand what their problems are.
What types of loans do you offer?
We mainly offer crop loans. The interest rates on normal loans, if they are even available in rural areas, can be very high for farmers, most of whom don't have bank accounts. High interest rates and the requirement for regular repayment schedules can pose problems for farmers. Normally, they can only repay loans depending on the yield of their crops.
Our small loans are provided based on the harvesting season, and the interest is collected only after the harvest. The loans are also tailored to the needs of the farmers, and range from K250,000 to K600,000.
Funding for the loans comes from international aid organisations, and we provide loans for a variety of crops in around 60 townships. We also provide advice on soil maintenance, crop variety, and methods to reduce crop losses.
More News