Textile companies hope for better days ahead
Date: 2021-03-02
News Type: Marketing News
Textile Companies Hope For Better Days Ahead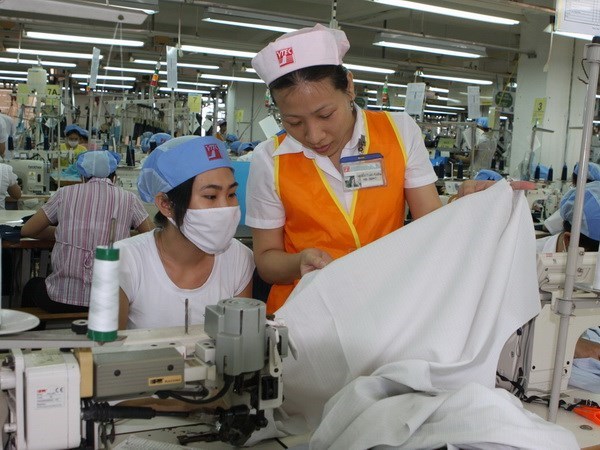 Workers at Việt Tiến Garment Corporation (VGG). From 2010 to 2020, the total revenue of Vietnamese textile and garment enterprises has increased four times from VNĐ12.35 trillion to VNĐ54.14 trillion. — VNA/VNS Photo
HÀ NỘI — Textile and garment companies have made big strides in the industry for the past decade, but 2020 was a challenge.
Việt Tiến Garment Corporation (VGG) recorded a sharp decline in net profit by 65 per cent in 2020 ​​to VNĐ143 billion (US$6.2 million), the lowest profit rate in the last 10 years.
VGG attributed the decline to the negative impact of the COVID-19 pandemic around the world, especially in Japan, the US and the EU, the main export market of the corporation. Importers in these countries reduced their orders, leading to a decrease in VGG's sales.
DamSan Joint Stock Company (ADS) reported net profit rising sharply to VNĐ23 billion, nearly three times higher than the previous year, thanks to the increase in the price of finished cotton fibre products and sales of fixed assets.
Thành Công Textile Garment Investment Trading Joint Stock Company (TCM) during the pandemic in 2020 invested heavily in masks, medical protective gear and developed antibacterial fabrics. Thus its net profit in 2020 increased by 28 per cent to VNĐ275 billion.
For the first year in 25 years, Việt Nam's textile and garment export growth was negative 10.5 per cent, only reaching US$35.2 billion compared to $39 billion in 2019.
In the context of a decline in global demand by more than 22 per cent, from $740 billion to $600 billion, competing countries all witnessed an export decrease between 15-20 per cent, making Việt Nam's reduction rate small.
From 2010 to 2020, the total revenue of Vietnamese textile and garment enterprises has increased four times from VNĐ12.35 trillion to VNĐ54.14 trillion.
Among large garment firms, the revenue of Việt Nam National Garment and Textile Group (Vinatex) increased from VNĐ489 billion to a five-digit number during the period 2014 - 2020 and peaked at VNĐ19.1 trillion in 2018.
The Việt Nam Textile and Apparel Association (VITAS) forecasts that export value in 2021 may recover to 2019 levels, reaching $39 billion, equivalent to a growth rate of 10.6 per cent year-on-year.
According to the Ministry of Industry and Trade, the textile and garment industry has great development opportunities from new free trade agreements, especially the potential to expand exports to major markets around the world. High-end brands will benefit greatly.
Notably, in 2021, many new features of the supply chain will be established such as the falling prices trend that dominates the whole market and the online business model which requires digital communication with all components of the supply chain.
Many businesses plan to invest in new projects in 2021 to improve production capacity. Vinatex will focus on supplementing, training and developing high-quality human resources, connecting chains in member enterprises and increasing the performance of subsidiaries.
Thành Công Textile Garment Investment Trading Joint Stock Company (TCM) plans to boost investment to expand its factories to serve export orders, while at the same time meeting the increasing orders for yarn and fabric for domestic textile enterprises to benefit from trade deals.
In terms of fashion items, the company plans to develop online instead of opening a retail chain to catch up with modern shopping trends. — VNS
News Source : Viet Nam News
More news