VietnamWood and NürnbergMesse Announced Strategic Partnership to Tap New Opportunities for the Woodworking Event
Date: 2022-07-19
News Type: Expo News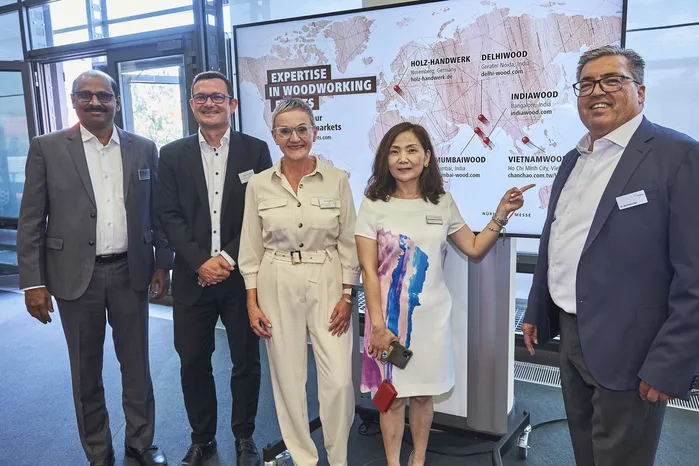 (f.l.t.r.) SivaKumar Venugopal (NürnbergMesse India), Stefan Dittrich (NürnbergMesse), Petra Wolf (NürnbergMesse), Judy Wang (Chan Chao International), Dr. Bernhard Dirr (VDMA) // © NürnbergMesse
VietnamWood, South-East Asia's leading trade fair for the primary and secondary woodworking and wood processing industry, joined a strategic partnership agreement with NürnbergMesse on July 12th. Being the sector's most important procurement and technology platform, VietnamWood will thus slot into the Woodworking Events product range at NürnbergMesse. This strategic alliance serves to connect more overseas buyers and exhibitors to fulfill the demand of the latest manufacturing technologies and skills.
NürnbergMesse, one of the world's leading trade fair organizers with proven expertise in woodworking and wood processing, gives you access to the key international markets, namely HOLZ-HANDWERK in Germany, and INDIAWOOD, DELHIWOOD and MUMBAIWOOD in India. VietnamWood is the ideal complement as the fifth member of NürnbergMesse's woodworking events, demonstrating growth in all key parameters: exhibitor numbers, exhibition area and visitor numbers in the past 20 years. VietnamWood is a top-level trade fair in the South-East Asian market. During the past years, there were great number of exhibitors joining VietnamWood and gained fruitful business opportunities. Having collaborated strategically with NürnbergMesse, it is expected our clients will be stepping up into global market with further developments.
With the outstanding growth in home furnishings in recent years, Vietnam has become the second biggest global furniture exporter, Vietnamese enterprises are becoming more mature and able to meet large orders. Therefore, Vietnam's wood industry will continue to develop in the coming years, Vietnamese enterprises are increasing their investment to expand production scale and improving administration and management. Firms are seeking measures to add more value to their products such as increasing the exports of products that they themselves design instead of exporting subcontracted products and continue to use sustainable wood sources so that Vietnam becomes a safe production base for its major export market in the US, UK, Canada, Australia, and Japan. The growth in the Vietnamese market offers major potential for solution providers from VietnamWood and the network from NürnbergMesse's woodworking events.
This year, VietnamWood will once again deliver an inspiring platform to motivate the woodworking and furniture manufacturing industry players with new technologies, solutions and innovations. With country pavilions from Germany, Austria, Taiwan, USA, France, Canada and individual exhibitors from 22 countries and regions, the four days event will offer a comprehensive range of innovative products and provide information on the latest technological developments. Focusing on the latest trends in machines & equipment for forestry, primary processing, secondary processing, surface finishing, use of residual wood, generation of energy & heating using wood fuels, woodworking materials & consumables, furniture fittings & accessories, technical services, tools & auxiliaries, VietnamWood aims to drive Vietnam furniture manufacturing and woodworking industry, and establish Vietnam as one of the top manufacturing destinations in the South-East Asia Region.
VietnamWood, organized by Chan Chao International Co., Ltd, the South-East Asia's leading trade fair for the primary and secondary woodworking and wood processing industry will take place at the SECC-Saigon Exhibition & Convention Center in Ho Chi Minh City from 18 to 21 October 2022.
For further information, please refer to https://www.chanchao.com.tw/vietnamwood/