Vietnam's woodwork exports increase over 20 consecutive years
Date: 2022-07-07
News Type: Marketing News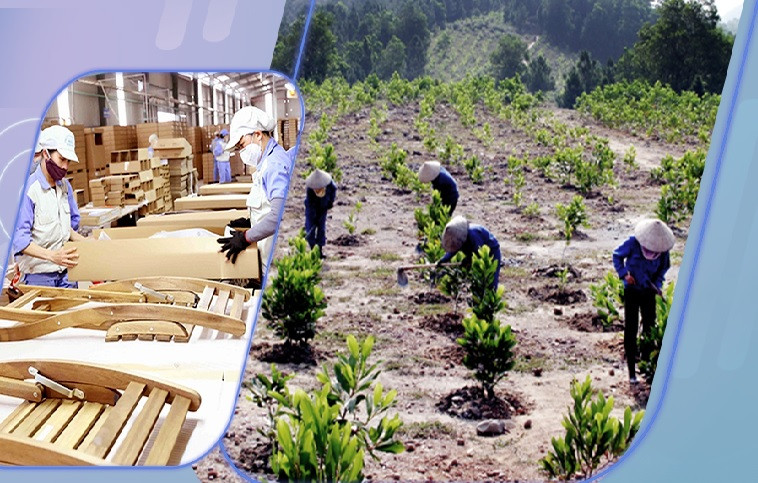 Despite the pandemic and global political upheaval, which has hit supply chains, a scarce supply of raw materials and rising logistics costs, Vietnam's export turnover of wood and wood products has still increased.
In the first quarter of 2022, the figure reached 4.3 billion USD, up 4.4% year on year. Many Vietnamese furniture enterprises have signed full orders for the entire 2022.
Growth for 2 decades
According to statistics, in 2021, Vietnamese wood and wood products were present in over 120 countries and territories, with a total export turnover of 15.96 billion USD, up 20.7% compared to 2020. The double-digit growth rate in export turnover helped the product be listed in the top 10 largest export items of the country.
Currently, Vietnam ranks seventh in the world in the production of wood products and furniture and is the second-largest exporter in the Asia-Pacific region. The US, Japan, China, the EU and South Korea are the five main markets of Vietnamese wood and wood products with export value of 14.27 billion USD, accounting for 90.4 % of the industry's total export revenue.
According to the Vietnam Administration of Forestry (Ministry of Agriculture and Rural Development), this export item has been growing for two decades, from 219 million USD in 2000 to 15.96 billion USD in 2021. This is a growth rate that no other industry has. The trade surplus of this product also rose from 2.5 billion USD in 2010 to 5 billion USD in 2015, 10.6 billion USD in 2020 and 13 billion USD in 2021.
Experts say that these results have been achieved because Vietnam has formed a production chain. Instead of exporting raw materials like other industry, the Vietnamese wood industry processes raw materials into finished products for export. For example, in 2021, Vietnam's export of wood of all kinds (raw materials, boards of all kinds) reached 3.74 billion USD, up 31.7%; export of wood products worth 11.1 billion USD, up 16.1%, and export of non-timber forest products worth 1.15 billion USD, up 34.7%.
Notably, most of Vietnam's consumer wood products are processed from materials from planted forests. In recent years, Vietnam's import of wood materials has decreased significantly. Instead, Vietnam uses up to 75-80% of wood materials from plantations.
Currently, the wood and forest product processing industry employs more than 500,000 workers, of which trained and long-term workers account for 55-60%. The average labor productivity is 25,000 USD/person/year, up 25% compared to 2015 and 47% compared to 2010.
Turn forest into gold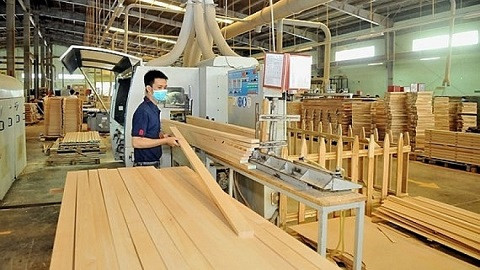 In early March 2022, Deputy Prime Minister Le Van Thanh signed a decision approving the project to develop a sustainable and effective wood processing industry in the 2021-2030 period.
The project sets specific goals, including The export value of wood and forest products will reach 20 billion USD by 2025 and 25 billion USD in 2030, of which export revenue of wood and wood products will reach over 18.5 billion USD and over 20.4 billion USD, respectively; the value of wood and wood products for domestic consumption will reach 5 billion USD in 2025 and over 6 billion USD in 2030.
In addition, more than 80% of wood processing establishments will apply advanced technology; 100% of wood and wood products for export and domestic consumption will be processed from legal sources of wood and wood with certification for sustainable forest management.
Deputy Minister of Agriculture and Rural Development Le Quoc Doanh told a recent conference that the world furniture market values about 450 billion USD/year so Vietnam's wood and wood furniture industry has a lot of potential for development. However, the industry should have a medium and long-term vision, especially for the domestic sources of planted wood.
According to Vietnam's plan, the output of raw wood harvested from domestic plantations will reach 35 million m3 by 2025 and 50 million m3 of production by 2030. Experts say that for sustainable development of this industry, it is necessary to build a brand for "Vietnamese wood" in the international market.
News Source : VietNamnet
More news