Việt Nam to shape growth strategy for next decade
Date: 2019-08-01
News Type: Marketing News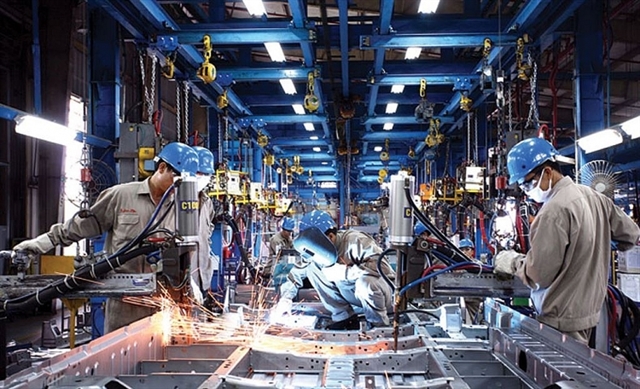 Việt Nam is confronting a rapidly ageing population, tepid productivity and sluggish investment growth which weigh on the country's medium-term growth potential. — Photo petrotimes.vn
HÀ NỘI – Việt Nam would have to push ahead with bold reforms in institutions, human resources, infrastructure and innovation for better quality growth in the next ten years, experts have said.
The Government is shaping a socio-economic development strategy for 2021-30 and a development plan for 2021-25. The next ten-year plan will focus on quality growth, targeting fast but green and inclusive development, and building a modern and integrated market economy.
At a workshop on sharing ideas and opinions on Việt Nam's new development strategy on Friday, Ousmane Dione, the World Bank Country Director for Việt Nam, pointed out both risks and opportunities for the country in the next decade.
He said the increasing adoption of advanced manufacturing technologies – robotics, 3D printing and smart manufacturing – in labour-scarce economies and in China could challenge Việt Nam's ability to continue to rely on export-driven growth.
"But they may also create new opportunities for faster technological catch-up and even leapfrogging," Dione said.
Việt Nam is confronting a rapidly ageing population, tepid productivity and sluggish investment growth which weigh on the country's medium-term growth potential. Many of the drivers that propelled Việt Nam's growth in the past would diminish over the next decade, he said.
"Việt Nam will have to seize opportunities, manage risks and push ahead with bold reforms," Dione said, adding the next decade was a critical time for Việt Nam to confront new challenges and seek to fulfill its ambition of becoming a high income economy by 2045.
Việt Nam's economic growth has been slowing over the past 30 years, from 8 per cent per year in the first decade to more than 7 per cent in the following decade and now about 6.2-6.4 per cent.
Cao Viết Sinh, former deputy minister of planning and investment, said the current problem facing Việt Nam was to determine a reasonable growth rate.
Investment in the country was declining, with total investment as a percentage of gross domestic product (GDP) down from 40-44 per cent in 2001-10 to about 34-35 per cent in 2011-19, but the growth rate was 1 per cent lower than the previous period.
Sinh also noted that lower credit growth was due to risk concerns but worried that such a low level was not enough to fuel demand.
"These are issues Việt Nam must take into consideration in developing a development strategy for the next decade," Sinh said.
Minister of Planning and Investment Nguyễn Chí Dũng said Việt Nam's labour productivity had lagged behind the world.
He cited the World Bank's "Now or Never" report saying the productivity gap between the 10 per cent of highest productivity companies and the 10 per cent lowest productivity ones in Việt Nam had increased from 160 times in 2012 to 293 in 2015.
"Quality, efficiency and competitiveness from products and businesses are very low," Dũng said.
He said limitations in both basic and applied research were the main reasons hampering the country's productivity growth. In many localities, businesses were operating mainly in the service industry with very few in manufacturing.
"If we cannot solve this bottleneck, it will be very difficult to promote rapid, high quality growth in the near future," the minister said.
According to the ministry, science and technology and innovation must be one of the five driving forces behind the economy, besides human resources, institutions, infrastructure and cultural values. — VNS

Read more at http://vietnamnews.vn/economy/521128/viet-nam-to-shape-growth-strategy-for-next-decade.html#f82cbPcj8ri6g41G.99