ACMT Smart Molding Technology Theme Pavilion
Exhibitor: ASSOCIATION OF CAE MOLDING TECHNOLOGY(ACMT)
Date: 2020-07-14
Booth No.: Q813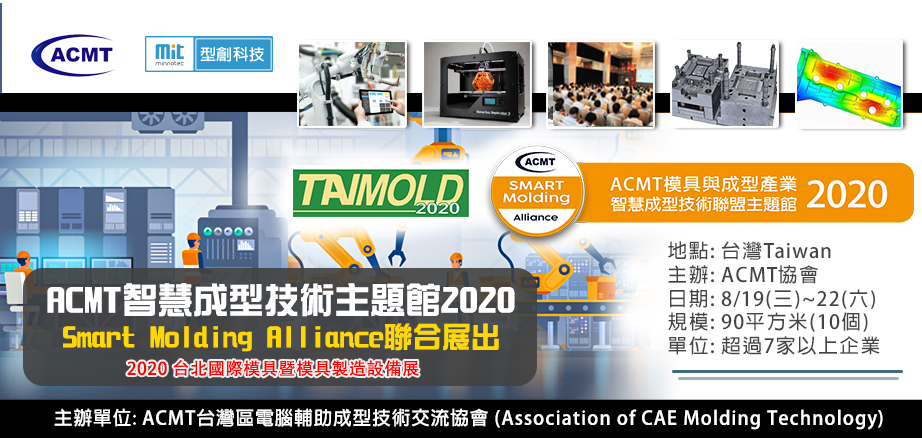 "2020 Taipei International Mould and Mould Manufacturing Equipment Exhibition" will be grandly opened on 8/19 (Wed). The exhibition will be held for 4 days in a row, and the opening time will be from 9:30 a.m. to 5 p.m. on the last day (the last day is only open until the afternoon) 4 o'clock). In recent years, the entire industry has gradually paid attention to the "Industry 4.0" issue. This exhibition hopes to present a complete Industry 4.0 solution for visitors by combining various themes brought by exhibitors.
In this regard, as one of the organizers of this exhibition, the ACMT Association will also bring you the "ACMT Smart Molding Technology Theme Pavilion" in response to the theme. This time the theme pavilion invited the type of technology, Pride Technology, Water Research Intelligence 10 intelligent molding alliance partners, such as Equipment Technology, Zhongyuan University Intelligent Manufacturing Center, High-speed 3D Printing Research Center, Taike 3D Technology, Daiguan Technology, Jingsheng Xingye, etc., jointly demonstrated perfect intelligent molding solutions for visitors.
The theme museum's current exhibition focuses on "smart molding technology", and the exhibition content can be subdivided into 7 major items, namely "mold manufacturing intelligent management technology application", "Internet of Things in injection molding factory application", "smart Precision mold quality maintenance", "the latest 3D printing technology solutions", "fine foam molding technology application", "high-precision mold waterway design", "mold peripheral parts", etc.
In addition to the above exhibitions, the association will also hold a "Mold and Mold Smart Factory Seminar" for members, and bring "Mold" T Zero" Mass Production Automation Smart Factory" and "IoM Internet of Things in Injection Molding Factory to members "Application" and other topics, many exciting contents not to be missed are in [ACMT Smart Molding Technology Theme Pavilion], looking forward to your visit.
More Exhibitor's Press Release